Back to School Preparations During COVID-19
Back to School Preparations During COVID-19
Written By Dr. Jay Brodwyn & Associates on October 8, 2020
---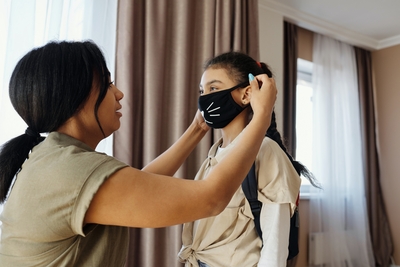 As Columbus area schools are gearing up for the opening of classrooms this month, teachers, parents, and students will need to adjust and adapt given the Coronavirus (COVID-19) pandemic.
Going back to school can be stressful for both parents and children, even during the best of times, more so during a pandemic. The key is to have an open conversation about what is causing the anxiety and preparation.
Preparation is the Key
The US Centers for Disease Control and Prevention (CDC) has released a list of considerationsfor which schools can protect students, teachers, administrators, and staff and slow the spread of COVID-19.
Here are some useful tips to help you and your children prepare for the incoming school year:
Connect with Your Children's Teachers
Introduce yourself to your child's teachers and learn about the school's policies to protect the students from COVID-19, class activities, and expectations for the year.
Be Honest with Your Children
Explain to your children the changes they may expect at school, such as wearing a face mask and maintaining physical distance from teachers and friends while at school.
Explain the Safety Measures at School
Reassure your children that the school is implementing safety measures to keep students and teachers healthy. Remind them that they can also help slow the spread of the virus by frequently washing their hands with soap and by practicing coughing etiquette.
Teach Your Children to Be Optimistic
Tell your children that a new school year means they will be able to see their friends and teachers, either physically or online, and they will learn new things.
Re-Establish Routines for School Days
Implement consistent waking times and getting-ready patterns. Create a comfortable and quiet workspace where children can spend regular homework time.
Boost Your Children's Immune System
Keep your children protected against viruses by providing them with a healthy diet. Exercise with your children regularly and expose them to a dose of sunshine by doing outdoor physical activities. Regular chiropractic care can also help keep your child's immune system running optimally as well.
Pack Light
Make sure your children's backpack weighs less than 10 to 20 percent of their body weight. Carrying heavy bags can strain your children's developing musculoskeletal structure, requiring chiropractic adjustments to help easy any potential pain.
Pediatric Chiropractic can Successfully Treat Your Kids' Injuries
With children going back to school, they become prone to injuries due to their increased activity. When your child experiences a headache, strain, sprain, or back pain, take them to a chiropractor.
Pediatric chiropractic may also improve the overall health of your children.
Does your child complain of body pain or headaches? Contact us at 706-563-3370 to schedule a consultation and see how we can help.

Posted In: Chiropractic Pediatric Chiropractic Fighting COVID-19 Back to School Preparations