Fighting COVID-19 Together: How to Wear a Face Mask Properly
Fighting COVID-19 Together: How to Wear a Face Mask Properly
Written By Dr. Jay Brodwyn & Associates on September 8, 2020
---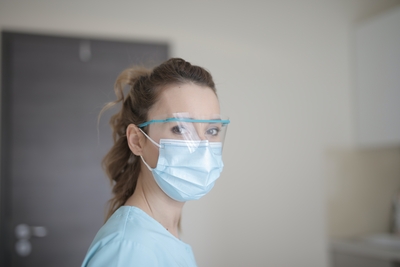 Person to person spread of the Coronavirus (COVID-19) disease occurs when infected people transfer the virus through respiratory droplets when they talk, raise their voice, cough, or sneeze. People nearby can inhale these droplets that can land in their mouths or noses.
Individuals who are asymptomatic or those who lack COVID-19 symptoms can also transmit the virus to others.
Wearing a face mask, together with social distancing and frequent hand-washing, slows the spread of COVID-19.
How to Properly Wear a Face Mask
N95 and disposable masks are in short supply in lots of areas, including Columbus, GA. The US Centers for Disease Control and Prevention (CDC) advises that unless you are a healthcare worker, do not use N95s or regular surgical masks. Hospital and frontline workers need these masks. Furthermore, the level of protection most people need can come from a simple cloth mask.
Check out online video tutorials to make your face mask from materials at home. You can also buy face masks from vendors who manufacture them. An important reminder: face masks only work if you wear them correctly.
Wash your hands before wearing your face mask.
Grab your face mask by the loops. Keep your hands off the central part.
Put your face mask over your nose and mouth and make sure that these areas are completely covered. Loop it around the ears and try to fit it snugly against the sides of your face.
Make sure you can breathe easily. Do not touch your face mask when you are outside and keep your hands away from your face.
When you return home after going outside, do the same process in reverse.
Pop your face mask in the washer or hand wash it before using it again.
Protect Yourself and Everyone Around You
Wearing a face mask highlights something important in the fight against COVID-19 – it is not always about protecting yourself. Wearing a face mask is also about protecting the people around you. If everyone wears a face mask, we all protect each other.
That's what we do at Brodwyn & Associates. We continue to serve the community while observing the CDC protocols to keep everyone safe and protected.
Everyone in our staff is required to wear a face mask, practice social distancing when possible, and wash their hands regularly in our Columbus, GA clinic. Rest assured that your well-being and safety are our utmost priority.
Are you suffering from headache or body pain, brought about by the stress of this COVID-19 pandemic? Contact us at 706-563-3370 to schedule a consultation and see how we can help.

Posted In: Chiropractic