Get Relief from Sports Injuries with Brodwyn and Associates
Get Relief from Sports Injuries with Brodwyn and Associates
Written By Dr. Jay Brodwyn & Associates on September 18, 2021
---
Who is at Risk for Sports Injuries?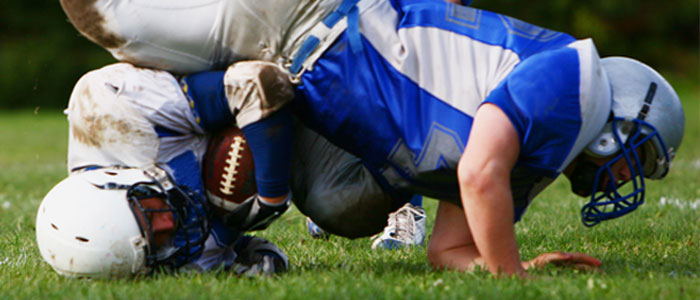 People who play contact sports like football, rugby union, and wrestling will find themselves frequently exposed to injury. Even playing sports that don't feature as much contact, like volleyball or tennis, can put one at risk of some kind of physical damage. Simply put, as long as you play any kind of sport that requires physical movement, there is some chance you might sustain an injury.
If you do find yourself suffering from a sports injury, a chiropractor can help you find pain relief and minimize future damage without invasive action. Chiropractic care has been recognized among the most effective methods of treating certain sports injuries, and Brodwyn and Associates provides extensive support for sports injury patients at its Columbus, GA, office.
If you have a sports injury, don't wait; schedule an appointment online at Brodwyn and Associates.
What Does Treatment for Sports Injuries Involve?
Sports injuries, especially those to the neck or other sensitive areas of the body, require special care. Treatment for these injuries often includes pain management, physical therapy, spine adjustment, and other curative elements. Underlying issues often need to be treated in order to prevent injuries from resurfacing or leading to further complications. Therefore, holistic treatment is best for sports injuries; pain management is not enough.
Brodwyn and Associates utilizes the best equipment in sports and physical therapy, as well as the knowledge and experience of the chiropractic team, to provide holistic care for sports injuries. Whether you play sports for a living or just to pass the time, it is important to manage any injuries that you might sustain to lessen the risk of inactivity in the future.
Providing Sports Injury Management to Columbus' Best
At Brodwyn and Associates, we consider ourselves team players, and we are proud to provide sports injury management and pain relief to some of Columbus' best athletes. We are the official chiropractor of the Columbus Cottonmouths, Columbus Wardogs and Columbus Rapids, and we are also trusted to provide chiropractic care to the Columbus Lions and Riverdragons. We also served as the team health provider for the Georgia Pride women's softball team.
Get Back to What You Love – Schedule an Appointment
With decades of experience to draw on, Brodwyn and Associates can provide quality non-invasive treatment for your sports injuries. Book an appointment right on our website, call us at (706) 563-3370, or visit our office at 3624 Edgewood Road, Suite A, Columbus, Georgia. Get on the road to recovery so you can get back out there and enjoy the sports you love.

Posted In: Chiropractic Sports Injuries Athletics