Physical Therapy and Occupational Therapy – What's the Difference?
Physical Therapy and Occupational Therapy – What's the Difference?
Written By West Georgia Regenerative Medicine on May 15, 2020
---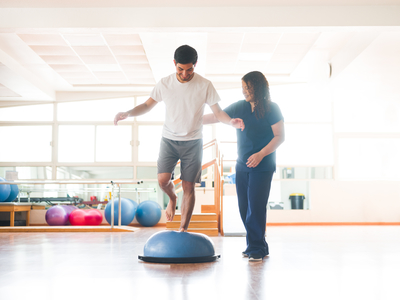 People often use the terms physical therapy and occupational therapy interchangeably.
However, these two specialties focus on treating different types of patients. Learn how these two modalities differ and who can benefit from receiving these forms of therapy from their Columbus, GA chiropractor's office.
Physical Therapy vs. Occupational Therapy in Columbus, GA
The main difference between these therapies is that occupational therapy focuses on improving the patient's ability to perform activities they use throughout their daily life. Physical therapy, on the other hand, focuses on the patient's ability to move, ensuring the body functions properly.
How a Physical Therapist Helps Patients
A physical therapist from West Georgia Regenerative Medicine can help patients with myofascial release, which can ease facial pain. They can also promote neuromuscular re-education, something that can reduce pain and promote optimal biomechanics (the body's ability to move properly). Exercise therapy is often incorporated to help patients improve their flexibility, strength, and overall endurance.
Who Benefits:
Patients with arthritis
Diabetic patients
People who are recovering from surgery
Patients who've experienced sports injuries
What Does an Occupational Therapist Do?
An occupational therapist from West Georgia Regenerative Medicine can help patients relearn how to care for themselves, which can include dressing, cleaning, and feeding themselves. They can also teach patients how to use mobility tools, like wheelchairs and walkers.
Exercises are often incorporated to increase mobility, flexibility, strength, endurance, and balance. The ultimate goal is to give patients the tools they need to regain their independence.
Who Benefits:
Patients with permanent disabilities
Survivors of stroke
Adults and children with cognitive, sensory, or physical issues
A patient's family members (who may also receive training from the occupational therapist)
West Georgia Regenerative Medicine – Putting Your Needs First
Dr. Jay Brodwyn and the other chiropractors of Brodwyn and Associates and West Georgia Regenerative Medicine want to serve you to the best of their ability. To that end, they continue their training beyond the continuing education requirements.
In fact, Dr. Brodwyn recently finished an intensive course on the non-surgical treatment of scoliosis. He's the only certified doctor in the state to have this training.
You can be sure that this chiropractic team is always going to offer you the best and latest treatment options that will fit your unique needs.
Are you interested in starting a physical therapy program? Contact our team at West Georgia Regenerative Medicine at 706-507-3800 to schedule an appointment.

Posted In: Chiropractic Physical Therapy